Beulah quoted
"If you have not yet made their acquaintance, Beulah regularly bring us reissues of historical recordings, from 78s to 1960s stereo, in transfers as good as any that I have heard, removing as much surface noise as is feasible –practically all in the case of LPs, and even for most 78s –without impairing the tonal quality." Brian Wilson at Music Web International
"The Beulah record label has always been one of the most idiosyncratic, and therefore perhaps most interesting, of reissue marques. While the basic character of Beulah remains the same as in its Compact Disc days, the range of its present catalogue, driven now by the ease of downloading, has been extended in remarkable fashion. Browsing the Beulah catalogue is now rather like being in a 78rpm record shop: there are plenty of recordings of short pieces available to whet your appetite for either repertoire or artist, while at the same time there are numerous full length works available if you wish to consolidate your collection with, for instance, major symphonies. All of Beulah's transfers, as might be expected of a distinguished reissue label, are of very high quality." David Patmore writing in Classical Recordings Quarterly

"Beulah releases are available from other suppliers but Qobuz offer them in lossless sound for the same price that others charge for mp3 –in some casesthat'sless than full bit-rate mp3." Brian Wilson at Music Web International 
New for October

Many music lovers miss the sound from vinyl pressings. Many others have yet to discover how great the sound can be. Most of our albums are mastered from vinyl LP pressings and earlier recordings (generally before 1953) from 78 rpm discs. It is our ability to recreate, in the digital age, the sound from the disc era that many of our customers find most enjoyable.
Unlike modern digital recordings tracks in our albums do contain some distortion, and the occasional surface noises, but for many listeners these "defects" are soon forgotten.

Our albums are available from many download and streaming sites.
We highly recommend downloading from

where you can download or stream in high quality, for the same price as iTunes medium quality.


New albums
December release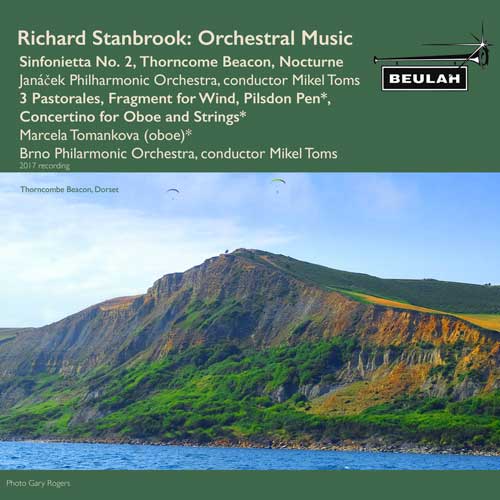 Beulah is proud to release the first album of music by Richard Stanbrook.
Richard Stanbrook was born in Newbury, Berkshire in 1954. Upon leaving school he enlisted in the Army and served with the Royal Corps of Transport Staff Band. In October 1977, he transferred to the Royal Military Academy Band Corps, Sandhurst and was its music arranger until July 1981. Stylistically, Stanbrook does not belong to any school of 'ism' and eschews modernity for its own sake.
Richard writes:-
Sinfonietta No. 2 for Orchestra.
This was composed during 2016 was planned to have been a light, even frivolous work took on a far more serious mood following that year's European Union membership referendum.
Nocturne for Violoncello and Strings.
Originally for Heckelphone, the Nocturne was composed in Autumn 2016 and is more a "song of the night" rather than "things that go bump in the night."
Thorncombe Beacon for 2 Horns and Strings.
Although overshadowed by its loftier neighbour, "Golden Cap," the view from Thorncombe Beacon (on the "Jurassic Coast" in West Dorset), sweeping Lyme Bay in its entirety - from Portland Bill to Start Point - is one of the finest seascapes in Britain.This piece was composed in 2013.
Three Pastorales for Orchestra.
These do not relate to any specific locations. Listeners may say they evoke their favourite landscapes but, of course, personal choices vary.
Fragment for Wind.
The remains of an orchestral piece written in 1986. Short and, maybe, sweet?
Pilsdon Pen for Oboe and Strings.
At 909 feet. Pilsdon Pen is the second highest hill in Dorset, with wide, airy views encompassing four counties. Composed in 2013.
Concertino for Oboe and Strings. Written during 2018, this, in the composer's words, "is my farewell to the England I once knew and revered."
Brass and Military at Beulah
Visit our new brass and military music page
Early music at Beulah
Visit our new early music page
Jazz at Beulah
Visit our new jazz page
Light Music at Beulah
Visit our new light music page
Piano music at Beulah
Visit our new piano music page
Opera at Beulah
Visit our new opera page
Vocal at Beulah
Visit our new vocal page